Ever heard a frog screaming? Nor have we. But we have heard of Screaming Frog, a brilliant piece of SEO software built by two very savvy SEO specialists.
The name of the tool came to its founder Dan Sharp, after hearing a cornered frog defend itself against two cats in his backyard.
Screaming Frog is one of the most innovative and extensive tools for SEO specialists, but the best thing about this tool (yep you guessed it) – it's free. Despite its free-ness, this tool is one tough fighting mechanism against the Google search bots.
So why is this tool just so frogging fantastic for SEO?
Catch those Google Spiders from every angle
Screaming Frog goes the whole 9 yards when it comes to SEO auditing, allowing you to view your website exactly as a Google Spider would. It offers a deep breakdown of every URL on a domain, with over 60 metrics to ensure all SEO analysts will be kept busy attending to one issue or another.
You can use filters or tabs at the bottom of the page to drill into each URL separately and get a clear picture of every page in just one click. This includes H tags, internal and external links, and even an SERP snapshot of what the page looks like in its full Google-glory.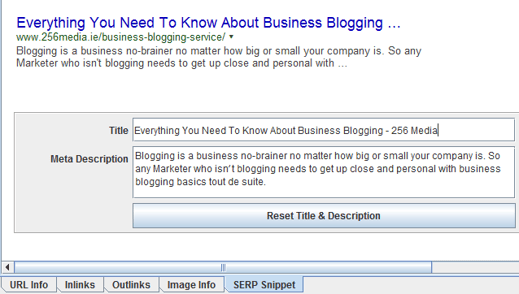 Recent changes to how Google displays its results mean that page titles are shown according to pixel width and not character length, and this is how they are assessed by Screaming Frog.
In the right hand panel, you can also choose to view your website through any metric you like, then you can filter the data further depending on the issue.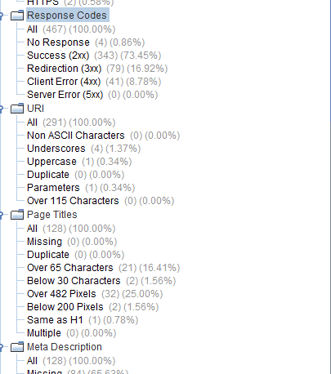 The most important Metrics to check are:
Response Codes: The first thing to attend to is any broken links or any misleading redirects. Redirects are the friendly traffic policemen waving bots to the right path. Screaming Frog will show us which redirects are pointing to the right page. They will also show us if they are 301 Redirects (which transfer authority from one page to the other) or 302 Redirects (which don't).
URL filters: You can filter your URLs for their length, dynamic characters and uppercase letters.
Page titles: Page titles are the most important aspect of your page for SEO. You can filter your page titles by length, to check for duplicates, and to check if they are matching H1s (a no-no).
H Tags: Do you have duplicated H tags? Or worse, are there H tags missing from a web page?
Directives:These are the rules you are giving the Google bots. If there any pages blocked from view with a 'no-follow' directive, could they be shown the light of day? Are there any 'canonicalized' pages that are stealing the kudos from just-as-relevant content?
Images: Screaming Frog will highlight whether your images are under 100kb and whether they all have alt tags.
Weed out those shifty SEO problems
Screaming Frog maps your website and allows you to identify those underlying problems that might have taken you hours to find otherwise.
Extra tips for SEO
Have a sneaky peek under the lid of your competitor's website. Screaming Frog will show you their site structure and where they are getting their inbound links from.
If you regularly update your website with wonderful content (we're sure you do) then it may be difficult to keep track of all those URLs. Screaming Frog hops to the rescue with the ability to create an XML sitemap, which is located in the top menu tab.
Export your data to Excel and compare it to your webmaster data to check if there is anything you're missing from either tool.
Screaming Frog is one demanding amphibian of a tool – it will not hold your hand and offer you simplified guides or explanations along the way. It acts as a great facilitator for those who have an inkling of what they're doing when it comes to SEO analysis - but if you're only learning the ropes you may have to do some homework before sitting down with this tool. Any issues flagged by Screaming Frog can be passed on to a developer or webmaster to fix.
There are also some elements of SEO this tool just can't scream about - targeted, user-friendly content is an example. To get great advice for all aspects of SEO and online content, you will need to call in the human experts – that's us.