If you stopped by 256's booth at Learn Inbound 2019 here in Dublin, then you left with a few sweets and possibly even a copy of our brand new Irish Content Marketing: In Search of Strategy report.
But even if you didn't see us (sure, how could you miss us?) then you still left with some great insights and actionable tips from an
amazing panel of presenters. From link building to content writing, to movie references and great banter from the host, day one of Learn Inbound 2019 wasn't short on entertainment.
While we could have picked any of the 13 speakers to pluck highlights from their presentations, there were three in particular that we thought really hit the nail on the head when it comes to content strategy.
Ross Hudgens, Siege Media, Scalable content marketing: Lessons from generation 10,000+ links in 12 months
Link building is really beneficial but getting those links isn't something everybody knows how to do. Getting them consistently, passively and without paying an arm and a leg? Not downright impossible, according to Ross Hudgens.
Hudgens has experience in earning links for his clients at Siege Media (You're welcome to the link Ross!). Using a variety of tactics and assets, the agency is able to generate links for its clients over time, which improves their SEO ranking and overall legitimacy on the web.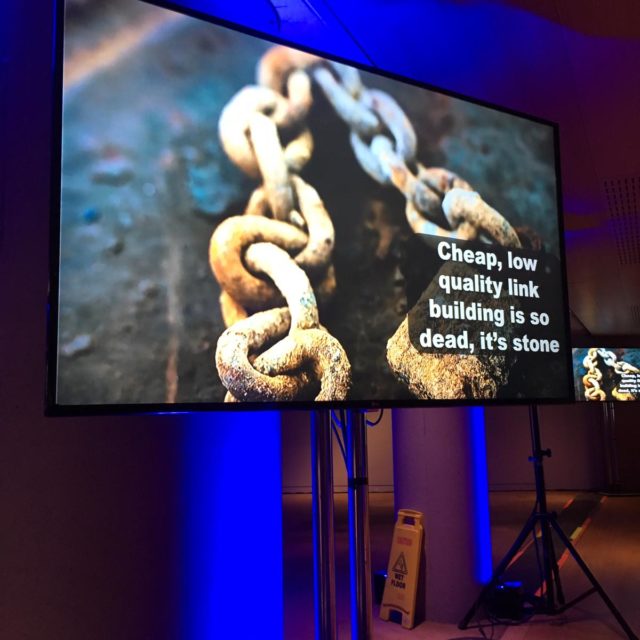 Luckily, Learn Inbound attendees were able to get a glimpse at the motor running the machine. Siege Media used a core framework of three elements to generate 10,000+ links per year:
1. Value design: Preach it, Ross! We're big fans of giving love to your design team here at 256 and Hudgens notably lists this as his first element of link building. Why? Because no one wants to read from, much less link to, websites that are aesthetically or technically
unpleasant.
The user experience is such an important element of distilling trust in linkers – whether they be news organisations or bloggers – that it needs to be front and centre in any linking strategy. Companies need to make it easy for people to link because a good linking strategy doesn't focus on immediacy, but rather on improving outcomes over time. Creating a great website experience is one of the ways to do that.
2. Optimise for organic (passive) links: We all want results yesterday but the reality is that linking strategies take time to bring returns. To best position your business to get the greatest overall returns (while still reserving effort for other content marketing activities), you'll want to find a middle ground between immediacy and long-term success.
Siege Media optimises for organic links in two ways: optimising the website visually so that it encourages people to link, as well as creating content focused on high link-to-view topics. This is content that's not commercially focused in the slightest and instead is centred on topics that are relevant to readers – the agency then creates new assets using 10x tactics to develop something that's valuable and hard to duplicate. (Basically, content that's ten times better than anything out there).
Bonus: Hudgens also pointed out that moving blogs off of a subdomain and to a subfolder normally corresponds with a 50 percent lift in traffic!
3. Mapping buyer personas to linkable audiences: You're really speaking our language here, Ross. Anyone who went to our
lunchtime topic table hosted by Karen Hesse and Brendan McGinley knows that we here at 256 feel that user personas are at the centre of a content strategy – and Siege Media thinks so too.
Create content that fits what your linkable audience is looking for. Depending on the industry – whether it's lifestyle, business or
in-between – these could be: top or middle of the funnel assets, in-depth guides, blog posts with shareable assets like infographics, reports or data studies.
Cindy Krum, MobileMoxie, Secrets your analytics won't tell you about
mobile-first indexing
There's a slight chance that you're reading this blog on your mobile phone. The fact of the matter is, we live in a mobile first world
when it comes to Google – which according to Cindy Krum of MobileMoxie, is less of a search engine and more of an answer engine.
It's that mindset that you need to have when it comes to optimising for mobile Search Engine Results Pages (SERPs). Krum believes that Google's mobile SERPs are placing far more value on hosted inclusions – those knowledge graphs, featured snippets and related searches that show up at the top of Google – than we realise. Part of the reason behind this is that when we're doing our research as to why we're not getting clicks or reaching the front page, we're relying on desktop.
But mobile is a vastly different experience than desktop.
We normally think of position one being a blue link at the top of Google. It's something you click into, read and potentially even venture further into the website from there. But Google's increasingly optimising mobile SERPs to be clickless and that's why position one for mobile can actually land you on page two.
Instead, hosted inclusions are the most valuable space that you can get on a mobile SERP. If you're still thinking about blue links being the top prize for mobile, then you're likely thinking of SEO in the old way. A massive 61.4 percent of searches don't result in a click on mobile, whereas this number drops to a palatable 34.4 percent on desktop, according to Cindy.
So, what can you do? Using a tool like MobileMoxie, which shows you how Google is showing SERPs in different locations across the world, can help you understand how you need to better optimise your website to land that valuable hosted inclusion page space
and get position zero.
Jessica Best, Barkley, The good, the bad and the WOW: What works in email marketing in 2019
Email is the most popular content marketing tactic in Ireland – our report found that 86 percent of content marketers have used it in
the last year. That's good news, because 69 percent of people in Ireland check their email at least once a day.
Email marketing will always be one of the top converters from a revenue perspective, according to Jessica Best, who notes that it can return $38 for every $1 spent. But it can also be one of the trickier strategies to get a grasp of, even if 61 percent of customer prefer being sent something by email, according to Best.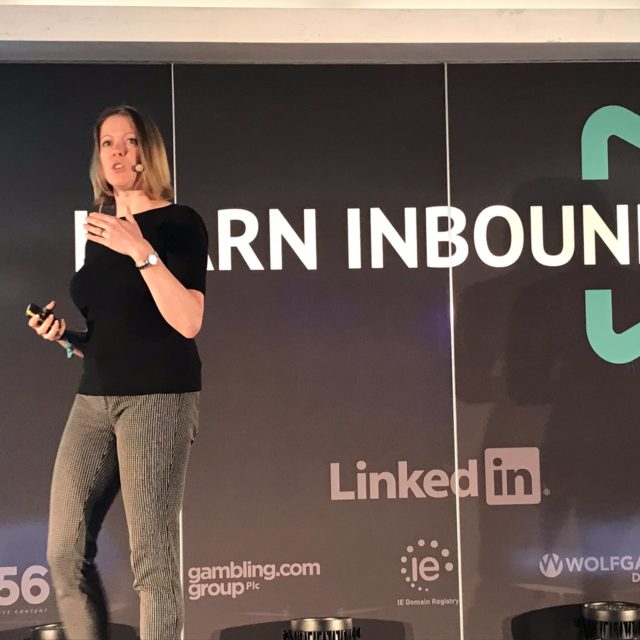 One of the ways Best believes we can all become better at email marketing is to take advantage of its inherent benefits: its ability as a
testing ground. It's one of the easiest channels to test and having a strategy can help you figure out which language and CTAs convert – which can potentially feed messaging in other channels.
Here are just a few of the things a testing plan can help you optimise:
Subject lines.
Day of week or time of day.
Frequency of sending.
Personalisation in the subject or body.
Best also recommends taking advantage of email's secret weapon: data. Companies often have more data than they know what to do with and this information can feed future campaigns or next steps. Basing future emails off of previous actions is an excellent way to boost conversion rates. Best's maths solution for this type of email marketing is as follows: personalisation + segmentation + automation + optimisation = emails that people will be more likely to act on.
Best's top five tips to avoid bad email practice? T
Avoid starting from scratch when it comes to content and design.
Don't use one massive image as the background of an email.
Don't buy email lists, ever!
Don't ignore mobile users' experience from a design perspective (most email headers, for instance, are roughly 300px despite the fact that email offers 600px of width).
Don't send an email without a rendering check.
Another thing to consider: email clients that don't automatically download images or show supporting assets. This can potentially lead to lower a lower CTR if your end users can't see your CTA. Best recommended using a bulletproof button, which is a 1px by 1px chart that has a coloured background and linked text – it'll get by platforms that don't automatically download images.
If you didn't get a chance to see us on day one, don't forget to stop by our booth on day two! And be sure to download our Irish content marketing report if you haven't already by clicking on the button below.