Professional services firms swear by 'word of mouth'. But buyers of professional services don't just rely on referrals and reputation when assessing prospective suppliers - but does that mean that referrals are even for professional service marketing?
It's a small country, l'il ole Ireland, and we have our own quirky way of doing things. That's why 'doing the messages' means buying groceries and 'I will, yeah' means it's the last thing I'm ever going to do.
It's also why we sometimes feel that we're all part of one big village where you can get to anybody you want to. This applies to the business community especially. If you've been around for a while, it's easy to feel that everyone that you want to know about you already does.
This can be dangerous thinking for professional firms, who trade largely on their reputation and will happily state that it's all about word of mouth and referrals. However, such firms need to attend to more than that, as a study by Hinge Marketing in the United States demonstrates (yes, I know it's American, not Irish, but you can be sure the behaviours are much the same).
They researched buying behaviour amongst 1,028 buyers of professional services across the Accounting/Finance, Marketing and Communications, Legal, Technology and Architecture/Engineering/Construction sectors.
How buyers check out professional services firms
The following picture emerges of how buyers 'check out' professional services providers:
80% look at their website
63% search online (i.e. 'google' them)
62% ask friends or colleagues if they've heard of them
60% use social media (of which, 70% use LinkedIn)
56% talk to a reference they have provided
I'd love to have a chat with the 20% of buyers who wouldn't take a look at their prospective new legal firm's website before inviting them to sit down and talk.
But on average, buyers will use an average of 3.2 of the above methods, which suggests that sellers must be visible across multiple channels.
Clearly, in order to succeed, a firm's brand needs to be strong both online and offline. Many will figure, 'Well, I'm okay. We have a decent website that looks professional and does the job for me'.
Professional Services Marketing Checklist
But consider how visible are you online. How do you rate on this four point Professional Services Marketing checklist?
1. Where does your firm rank on organic search (as many will unconsciously take this as an indication of your position in the market)?
2. Do you maintain a blog? If so, how often do you post (this will assist with your organic search result, as Google rewards fresh and relevant content)? Does your blog position you as a provider of solutions to the type of problems that a buyer has? Does it adequately reflect your expertise? Does it have a tone of voice that says 'I'd like to do business with these guys'?
3. Does your website have a piece of content that they may wish to download as it will help them in their search for a solution? Is it valuable enough for them to complete a basic form? If so, what happens to that data? Do you have a process for nurturing that lead?
4. Do you have a company LinkedIn profile or do you rely on your employees' personal pages? If you have a company profile, have you updated it to utilise LinkedIn's new Showcase facility?
As well as finding out if you look sound, they also want to see if you look 'plugged in', understand the digital world and are forward-looking. What they see positions your firm.
The Zero Moment of Truth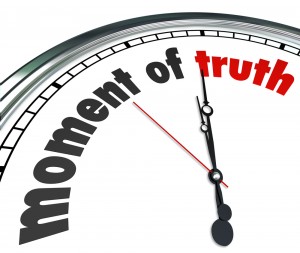 This is what Google refers to as the Zero Moment of Truth for your professional services firm. You need to win at the ZMOT, because the impression formed through this research either puts you ahead of your competitors or behind.
How important is this? Well, up to 60% of the B2B buying decision is made before the buyer engages with a sales person from the company.
So, are you going to get in touch with 256 Media to find out how to win at the Zero Moment of Truth for your professional services firm?
You will, yeah.
(No really, you should!)
P.S. You can send us a mail if you'd like a free Zero Moment of Truth Assessment of your company now.
Click here to download a copy of the Hinge Marketing research.
Read more about blogging here.
Want to use your blog to generate leads and customers?
If you're a brand looking to get smart about content marketing, get in touch with our award-winning team at 256 Media and we can help. In the meantime, follow us on Facebook, Twitter, and Pinterest to keep up with all things content and digital media.