Remember the chore of rewinding a video in your VHS player to watch a movie? Or blowing into the cartridge of your Super Nintendo game before you played The Legend of Zelda? Even sending a photo from your phone once required some tinkering and finger-crossing.
While nostalgia will always have a certain appeal, those days are well and truly in the past. Watching videos underwent a Darwinian evolution when VHS evolved into online streaming - and sending photos to your friends and significant other thankfully now only requires a few easy clicks.
The way people are consuming products and using technology is changing rapidly as it becomes way more accessible. We're currently going through a transition in terms of our buying habits. Instead of walking to a store or looking at a print catalogue, consumers are increasingly turning to the convenience of online shopping.
Google's playing a big, big part in that. Almost anything can be right in front of you in seconds and ready to buy. Looking for a unicorn costume? Just Google it and you'll have literally dozens of options right in front of you on the first page of results.
But what does this mean for us marketers? Well, since most people are using search engines before they buy, we need to be in the most convenient position for the consumer - the first page. Ask yourself this: when was the last time you visited the second page of results on Google? Can't remember? To be honest, neither can I. It's a scary place, man.
You need to make sure that you're adhering to Google's rules and optimising your website and content. That's how you get your site on the first page to claim some of that sweet, sweet traffic. Identifying your SEO strengths, flaws and how you compare to your competitors is crucial if you want to get your audience's attention.
Moz has been a respected name in SEO and content marketing since its inception in 2004. It has developed an incredibly slick tool to help you keep on top of your SEO and tick all the necessary boxes for your website. Their SEO toolbar is easily one of the most convenient and simple SEO tools on the market right now. It allows you to do SEO on the go and gives you key metrics and insights for any website as you surf the web.
Key metrics like social shares, root domains, backlink profiles and spam scores are all available under one roof. You can also get a simple breakdown of on-page elements like page titles, meta descriptions, H1 and H2 tags, alt text and a lot more.
Mozbar's most unique feature is the SERP overlay that helps you see how difficult it is to rank for a given keyword. It also offers insights into the results of the page you're viewing. Instantly get domain authority, page authority and link counts to size up your competition or any other page on the SERP.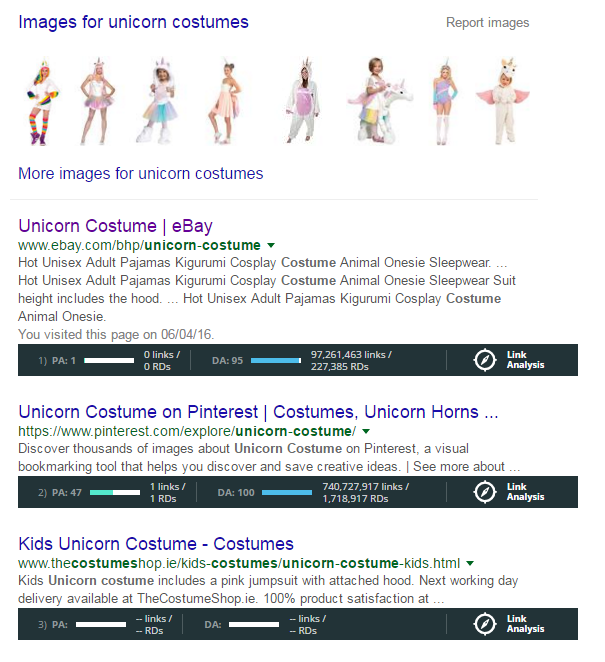 Looking for more information about a certain page? Just click on the link count and you'll be brought to Moz's Open Site Explorer for a more in-depth analysis.
Moz's SEO toolbar is available on a Chrome extension or Firefox add-on. It's free to use but pro plans are available to unlock advanced features, access more Moz tools and get more on-page recommendations from $99 per month. Yeah we know - that's a bit steep. But with the quality of tools Moz has in its arsenal, it's definitely a wise investment for your online presence.
Looking to boost your online presence?
Looking for content to boost your SEO score, rank higher in search engines and increase traffic to your website? Why not get in touch and talk to our award-winning team. We'll be happy to help.
In the meantime, follow us on Facebook, Twitter, and Pinterest to keep up to date with all the latest news on content marketing and all things digital.