Converting file types to the correct format is very important when optimising your online content marketing. Different file types have different attributes, such as size and quality, so it's important to choose the right one for your purpose. It's just as important to have a simple method of doing so.
There's nothing worse than when you want to convert your files but the internet keeps throwing low quality tools at you to get the job done. Or even worse, the internet (the dastardly fiend) makes you pay a fee to use that same low quality tool.
We've all been there, trying to convert a PNG or PDF to a JPEG, looking to get your MP4 or WAV music track to a simple MP3 and we end up stuck in a loop of never-ending rubbish tool after rubbish tool.
The multipurpose file converter
We've taken the frustration of file conversion to heart and dug up a good quality file converter that deals with a broad variety of file formats. It really takes the hassle out of searching for a format specific converter (there are so many). The extra special bonus? It's free and there's no sign-ups or downloads necessary.
The file converter we've picked out is Zamzar, your one way ticket to online reformatting. Zamzar supports over 1200 different conversions across video, audio, music, eBooks, imagery, and CAD. It is THE multipurpose converter.

Like almost all free tools on the internet there are paid versions but you still get a good deal with the free version.
Popular conversions include: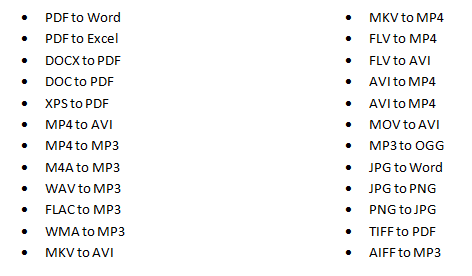 But it does a lot (A LOT!) more too.
URL based video conversion
As well as uploading and converting files you can add the URL of files such as videos from the following video-sharing websites and have them converted and saved to your computer:
Converting file formats from emails
Zamzar has come up with a very clever system that allows you to convert a file type from your email and have it sent back to you.
This means that if someone sends you an email with an attached file and your phone can't open it, you can forward the email straight to Zamzar who will then convert it to your desired format and send it straight back to you. Genius!
However there is a slight drawback with the free version (isn't there always!) that means you can only convert files of up to 1MB via email. You'll have to cough up the cash to pay for larger files.
How exactly does it work? See their instructions.
All in all, it's a really handy tool and covers a wide range of formats so you don't have to go wandering around the internet for a format-specific converter.
For more interesting tools and tips for content marketing follow us on Facebook and Twitter. It's worth it, we promise!