This week's Friday Freebie is not strictly for digital marketing, but is a lifesaver for any internet user.
Are you frustrated with having to remember all of your usernames and passwords? Do you control many different accounts? Meet LastPass, the tool that will simplify your digital world by organising all of your log in details and free up all the time you spend logging in to a plethora of accounts. The only login you'll ever need to remember is the one to your LastPass account.
Browsers often log our usernames and passwords either manually or automatically. But we tend not to be able to keep track of what passwords are logged where and then end up forgetting or misplacing a password for a certain account. There is a lot to keep track of. Some people keep all their login details on a document hidden in their computer. Then one day, your computer decides to crash and - poof! - all your info is gone (your cue to sob hysterically).
How will you access your emails, websites or clients accounts now?
How it works
LastPass is a cloud based password storage programme. It will be added as an extension to your browser and works by saving your log in details for any website you wish (you can choose not to save) and upon return to that website it will pre-populate the log in fields with your info: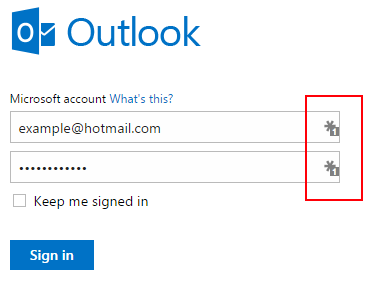 The red square above shows the LastPass icon - an asterix. Click on the asterix and up pops login info for that account (or multiple accounts for that domain). Select the account you would like to enter and it auto populates the correct username or password.
What's great about this is that everything is available at the click of a button. You won't need to exit the page to find your Word doc with all your passwords, scroll through them to find the right account and individually copy and paste the username and password.
The Vault
By keeping your info safely stored in their aptly named 'vault' you can clearly see what accounts you have set up using the programme.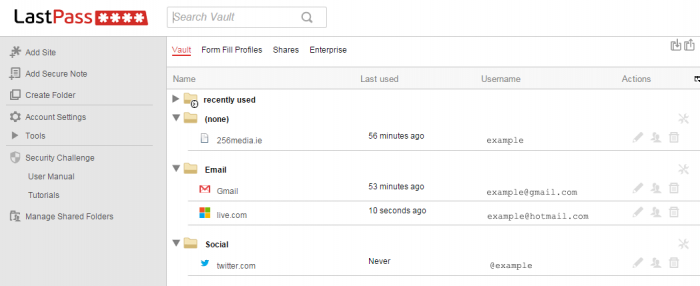 Moreover, this tool is not simply for login storage, it can also hold form information - address, phone number, etc. and generate new passwords - create complex passwords quick without the need to remember them.
"I don't trust a 3rd party with all of my passwords"
I hear you. This all sounds good, but what about the security measures? Is my data really safe? Password organisation is important but security is the top priority.
From the get go, all of your passwords are stored in the one place, but you will need a masterkey for access. All sensitive data is encrypted and decrypted locally before syncing with LastPass. Your key never leaves your device, and is never shared with LastPass. Your data stays accessible only to you.
They've also implemented AES 256-bit encryption with routinely-increased PBKDF2 iterations. That's tech speak for strong protection for the data you store in LastPass.
And just to be extra safe, you can add Multifactor Authentication. This option means you will need to take more than one step to access your account. We'll take this one straight from the horses mouth:
"Multifactor authentication refers to a device that can be enabled for use with your LastPass account, and requires a second step before you can gain access to your account. Multifactor authentication devices help protect your account from keyloggers and other threats – even if your Master Password were captured, someone would be unable to gain access to your account without this second form of authentication."
So there you have it, all your details stored securely and entered automatically or at the click of a button. It couldn't be handier!