A student won't sign up to a course based on the advice of a generic university email.
Your third-level marketing campaigns need to reach not only promising leads but also connect with their struggles, their trials and tribulations, as they search for their dream course.
We're talking about one-to-one marketing.
Using smart marketing technologies and tools and combining them with targeted data can give your content marketing efforts the fuel it needs to reach higher levels.
Education is now almost a commodity service as the demand grows. It's time for the third-level marketing teams to see prospective students as leads and really use the foundations of B2C marketing when creating a winning campaign. Everyone wants a better job, higher paycheck and stable career. Naturally enough, this ramps up the prices and students are now facing head-spinning costs.
These steep costs combined with the vast number of universities out there make it difficult to market higher education to
potential students.
Look.
While relying on rankings, reputation and job opportunities can be useful, sometimes potential students will look into the subtle differences between two colleges of similar standing. This is a perfect opportunity to use a personalisation strategy to get closer to potential students and help them take that final step in their decision.
Let's see how new tech and quality community management can make a world of difference and support your personalisation strategy.
What kind of person are you personalising for?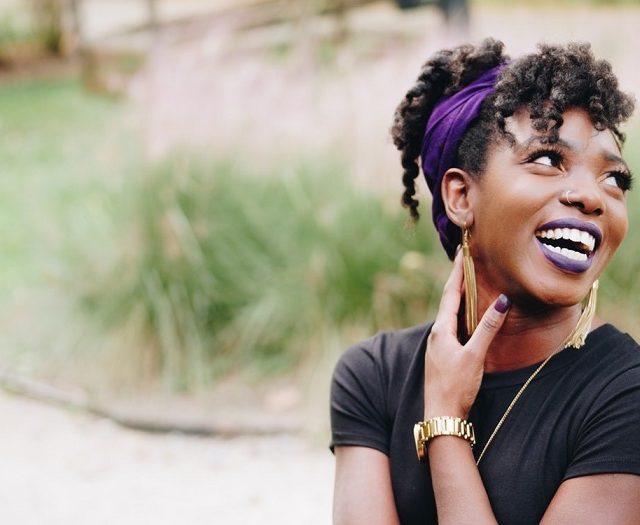 Remember: you're mainly targeting Gen Z. The University of Sheffield marketing places a massive emphasis on Snapchat as a platform ­– one that gives them, "80-90% in terms of open rates and completion rate within our stories."
Relate to upcoming college students. Empathise with the fact that for most of them it will be the first major financial decision they'll make in their life. Which? University calculator actually shows you how much debt you'll find yourself in by taking a particular course.
Yikes.
Or how about the fact that they're likely to be making this choice while also studying their brains off?
And all to secure a place in a course they're still trying to decide upon.
It's a lot of pressure.
Being the helping hand during this decision-making process makes you a more enticing prospect as they develop trust in your brand.
Use email marketing to give your strategy a personal touch
If you think that email is too old school for your perfectly trendy marketing strategy, you need to go back to the drawing board.
Email marketing has made a huge comeback because the advancements in tech are making email marketing more powerful than ever, and all you need is a well-maintained client database and some creativity.
Personalised emails enjoy 14 percent more click-throughs and a 10 percent increase in conversions, according to Campaign Monitor.
CRM tools like HubSpot allow you to segment your contacts based on a number of criteria, user behaviour, interests and more. Segmentation is the first step when plunging into personalisation. Students have a hard time deciding which university to choose from and having a bold, student-centric strategy gives you that much-needed edge on your competitors.
Emerging tech helps you communicate with young audiences
What better way to market universities than to use as much new tech as possible. Your target market is a generation that can't imagine the world without mobile devices and the misery of choosing between the phone line and the internet.
New generations consume content differently. It's why universities need to adjust their marketing strategy accordingly. There are many ways in which universities can implement new tech to personalise their third-level marketing strategy.
All that's required is a little creativity. Virtual reality headsets are becoming more common and with the direction video tech is developing it seems they are here to stay. YouTube has a whole collection of videos that are specially made to be watched through VR headsets.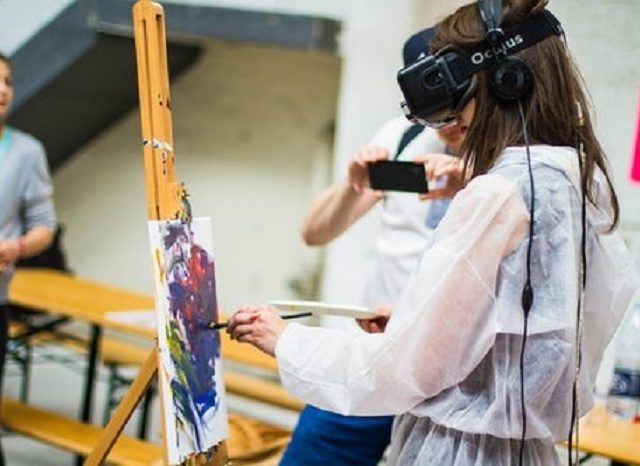 Universities can use this technology to bring their campus and classes to people in ways that other types of media couldn't. Imagine giving a private campus tour to a potential student residing hundreds or even thousands of miles away.
Here's the perfect example: we're a single click away from a private tour of Duke University campus.
VR is not the only type of media that can provide a feeling of that "one-on-one" treatment. With the use of AI and chatbots, universities can personalise the whole admissions process.
Designing a simple chatbot to answer students' most basic questions takes the load off of the admissions office. It provides a quality,
personal experience for future students in an extremely efficient way.
Chatbots are supported by AI. Their potential goes way beyond automated answers. This technology can learn from the information users feed into it and use the learnings to solve problems in a quicker and better way.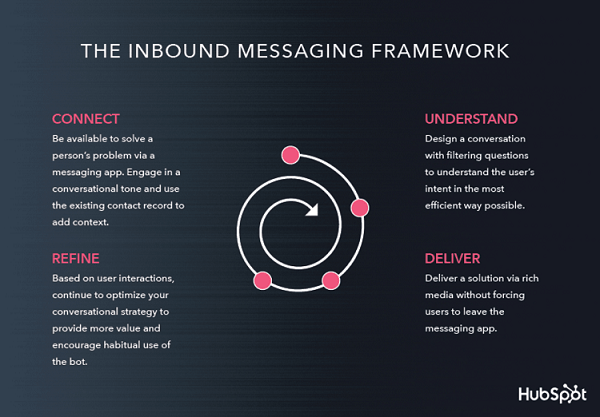 Behind this simple framework is a complicated algorithm that can help students find their perfect programme, figure out how to finance the studies and more. And all without ever leaving their messaging app.
Talking to robots might save costs and time, but it's always going to satisfy your prospective students' needs. There are times when talking to a real person and inviting them into your university's community reveals you to be the best option in a student's final decision.
Social media and good community management
The University of Cambridge has got the right idea by injecting their social channels with personality. If they were following the status quo, this would've been a whistle-stop tour of Paul's many accolades.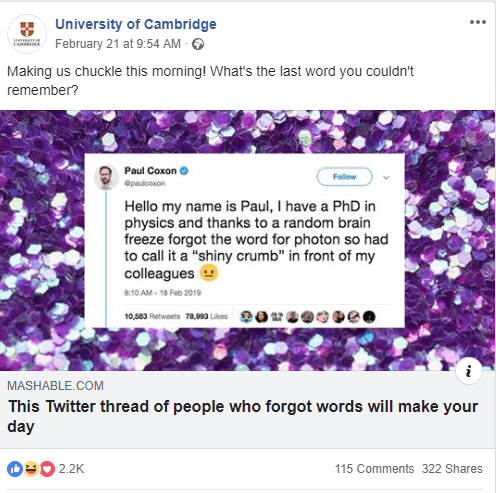 This is much more real. And engaging.
Don't be afraid as a university to be quirky and stand out. Instead of looking horizontally at your competitors, check out what creatives are doing in other industries to excite their audience.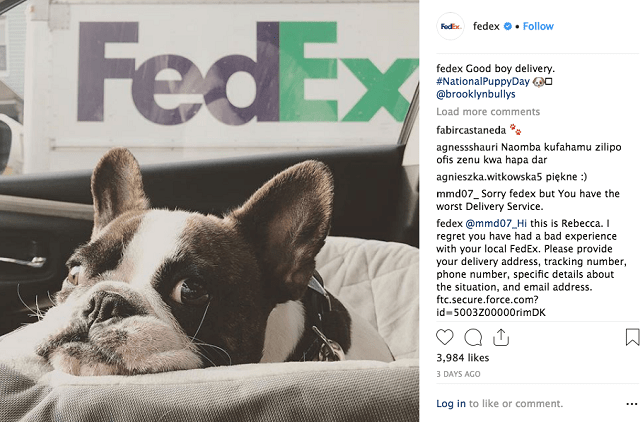 FedEx deals with shipping; an industry we can all agree isn't the most riveting. However, they've got a particularly strong social media presence that universities can draw from. It's playful, unexpected, artsy and often visually stunning.
If you take anything away from this post, let it be that you need to provide prospective students with content they want to see!
From there, you can lead them to your site and divulge more information. Keep your social channels focused on engagement and entertainment.
Swap value propositions for data.
Always look for ways to connect with each individual student.
Blasting out emails to the entire prospective student mailing list with a generic "choose us" approach is not going to achieve optimal third-level marketing results.
Instead, trade prospective student's personal details for really engaging value propositions. Ones that makes It hard not to
download.
You can then begin to communicate with more in-depth knowledge of what makes these people tick and what they're looking for in their student experience.
Your job then is to share how your university ticks all the boxes for an unforgettable college experience.
Be the knight in shining armour. Simplify for them the lengthy process of choosing where they're going to live and study for the next few years.
Make it so that the infinite amount of courses and higher-level institutes fall to the wayside in the splendour of what you can
offer.
How?
With personalised content.
It's the key to thriving in this competitive educational market. We don't need to tell you of the intense competition among universities
to secure student places.
Now it's time to think outside the box and instead start thinking about the people you're trying to reach.
And yes, we know it sounds simple but in reality takes a lot of hard work, consistency and know-how. If you're looking to revamp your third-level marketing strategy by putting content and personalisation at its core, then talk to us. We'll talk you through how we can make your institute's marketing efforts work efficiently to deliver outstanding results.