Keyword research the easy way. Thank God.
Choosing the most effective keywords for your website content or SEO campaign is an important and often tricky piece of work. You need to strike the right balance between specific, long-tail keywords and the more popular search terms. There are also your brand USPs and your organic search results to consider; these usually relate to all your niche product specs that the customers further down the purchase funnel will be hunting for.
A fundamental step in choosing keywords for your content is to monitor these organic search terms which are naturally driving traffic to your site. Another part of this process is to sniff out the top ranking competition and to discover which keywords they are ranking for. How do you go about this? You can skip along to Google Analytics and the Adwords Keyword planner tool and gather a list of potential keyword-candidates. Then proceed to check your competitor's ranking, keyword-by-tedious-keyword on Google Search. Work of the 'teeth-pulling' variety that will have you thinking 'There must be an easier way!'
As it happens, there is. SEMRush is a fast keyword research tool which has rushed to the rescue.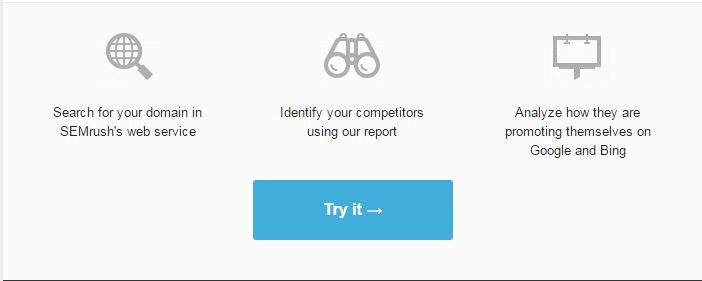 This tool allows marketers to monitor their competitor's and their own organic keyword rankings in one fell swoop. But that's not all it does; SEMRush also offers other nifty info, like the search volume of popular keywords for a particular industry and all back-links connected to your competitor's website (a nice touch).
Read on to discover the highlights and the lowlights (c'mon, it's free, not perfect!) of this tool for your brand's keyword research.
The useful parts for keyword research
This tool speeds up the keyword research process immensely. Instead of hopping from Google Analytics to Adwords to Google Search and then back again like a demented rabbit, you can have the top-line stats you need by simply inputting the desired URL into the SEMRush search bar. This means you can get a quick overview and breakdown of the success or progress of your campaign in seconds
It's a great comparison tool or spy glass for measuring your website against your competitors, as it gives you insights into their performance which would be difficult to obtain elsewhere – like back-links. Not sure who exactly your competitors are yet? No worries. This tool provides a handy list of your organic search competitors based on your website URL, which you can drill into and analyse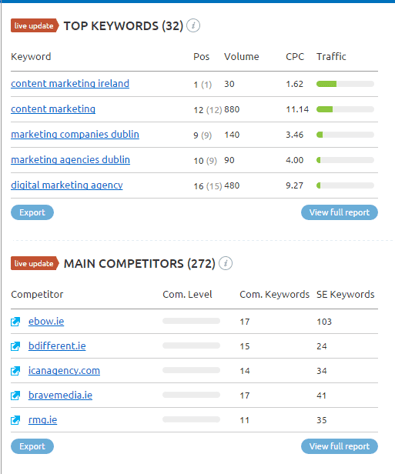 SEMRush acts as a keyword safety net. You can use it to catch any keywords which your competitors are using, ones that you have been just about to let fall through the cracks. Your competitor is ranking for them, and now you can too
It is useful for monitoring popular keyword trends, costs, and search volumes over time
It gives you measurable, meaningful data for your organic search campaign or your competitor's campaign.
You can drill into each keyword for a more detailed analysis. The most useful feature of this, in my eyes, is the 'related keywords' box. This gives you the most relevant and profitable keywords connected to your organic search terms (a great source of inspiration for your keyword choice)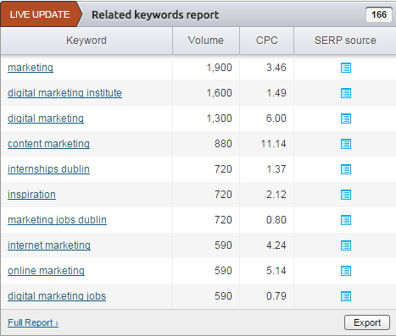 You can search by country, so you can check what search terms are most popular in your market in the UK or USA, if you are thinking of breaking into those markets
The tool is as user friendly as can be. The layout is a dream to use. All the important statistics are displayed immediately, and information becomes more detailed as you continue down the page. You can move easily between the navigation and information boxes swiftly. If you are uncertain what a phrase means exactly, don't worry, just hover over it with your mouse – SEMRush will explain everything
The not-so-useful parts for keyword research
Only fools rush in ... although SEMRush is a great tool for a top-line analysis of your keyword research, there are certain limitations which would prevent it from being your primary base for keyword research
Traffic tools are usually estimates of traffic – not exactimates. Therefore SEMRush will give you a close guess to traffic but is not 100% accurate. What does this mean for you? It means that this tool is great for getting instant insights into keyword performance and also for competitor analysis, but in order to get exact measurements, its best to consult the wise old platform of Google Analytics
Sense check the results – on the screengrab above listing 256 Media's Top Keywords, it has omitted several keywords that we rank no. 1 for (very annoying, that!). So use it as a guide, rather than as gospel
You can probably predict what is coming next – the free version is limited to what you pay for. You receive only ten keywords per search with the free version, and you are also limited to the amount of monthly searches you can perform
Overall, to get the most reliable results for your keyword research you will be tempted to fork out a monthly subscription, or you will be driven back to the traditional method of Google Search.
For expert, fast keyword analysis and knowledge of SEO content which drives results, don't hesitate to get in touch with us.