At 21 years old, long before one controversy after the other and countless cosmetic transformations, Michael Jackson was about to break away from the Jackson 5 and establish himself as a solo artist.
In fact, he scribbled a manifesto at the back of a tour itinerary in 1979, the same year he released his defining (and personal favourite) solo debut Off the Wall.
MJ outlined plans to separate himself from the days with his siblings to become a 'whole new character'. The letter gives a rare insight into the mindset of the pop icon in his early days and showcases clear evidence of his fierce determination.
'MJ will be my new name,' he said. 'No more Michael Jackson. I want a whole new character, a whole new look. I should be a totally different person. People should never think of me as the kid who sang ABC.
'I should be a new, incredible actor/singer/dancer that will shock the world. I will do no interviews. I will be magic. I will be a perfectionist, a researcher, a trainer, a masterer. I will be better than every great actor roped into one.'
Since then, Michael has gone on to sell over 350 million records worldwide with an unparalleled influence on popular culture, earning him the honorary title of the 'King of Pop'.
Michael had one goal: to become the best of the best in his industry and the world. He knew exactly what he wanted and, well, the results speak for themselves...
Dedication and smart goal-setting are hugely important. To achieve something great, you need to outline exactly what you want before you move forward.
Now, as much as we all strive to be a little bit like our crotch-grabbing, moon-walking pal MJ, we as marketers need to go one step further. And no, I don't mean building a bigger Neverland Ranch.
When you're setting goals for your business, you can't go at them with broad strokes. You need to be specific. Like, really really specific.
Every business should define what they want, year-by-year. And not just 'ah we'd only be delighted to see an increase in conversions this year...'
Any time you sit down to set a daily, monthly, quarterly or yearly goal for visits, contacts or customers, you want to make sure you're setting SMART goals. We recommend that you use the SMART goal methodology to make sure that your strategy is at its most efficient.
What are SMART goals?
SMART is an acronym for Specific, Measurable, Attainable, Relevant and Timebound. If you follow these steps, you'll be flying! Let's go through each one.
Specific
Your goal needs to be clear. Keep it short, crisp and as to the point as possible. It needs to reflect exactly what your company wants to accomplish.
Measurable
One of the most essential things to making a goal work is that it's trackable. If your goal is to just increase your social media following, you're not defining a metric that actually measures your progress.
If you goal is "I want to increase our social media following by 25%", now you have something to work towards.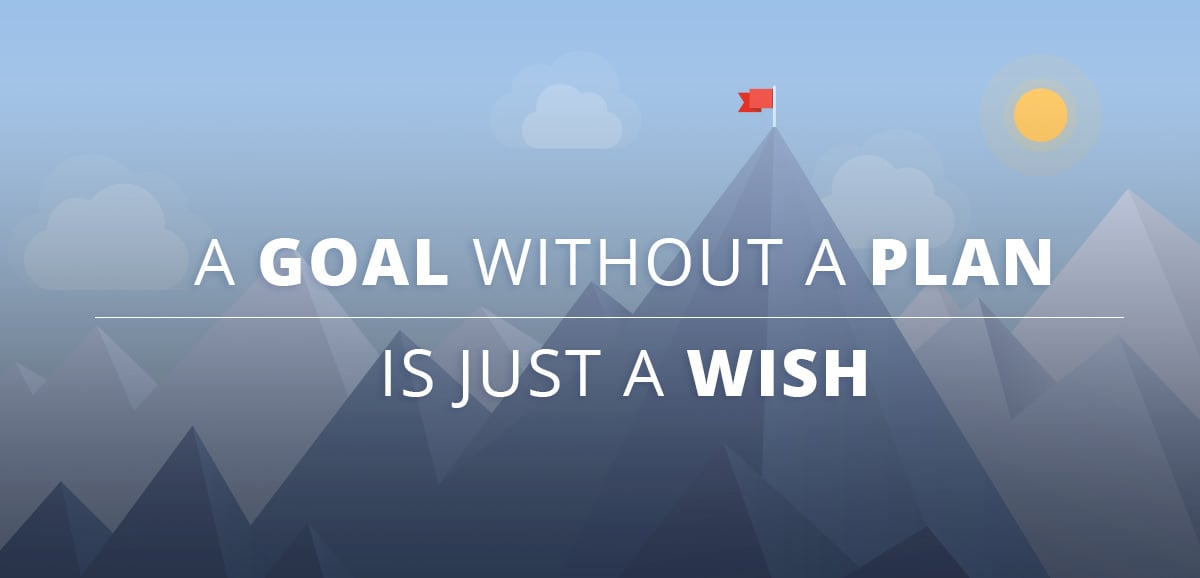 Attainable
Always make sure you're not punching above your weight. While having history-breaking goals can be beneficial, it's still important to keep them realistic.
Many businesses purposely set very high goals to push their employees to reach as far as possible. But in reality, this will only discourage them because they're aiming for something that they can't possibly achieve. Always keep your goals within reach.
Relevant
Why have a goal if it doesn't matter?
Say that you're a hoodie business that, at maximum, can only sell 1,000 hoodies per month. In this situation, your goal likely shouldn't be to "increase production of hoodies from 1,000 per month to 5,000 per month." While it's great you have more product, if your existing distributors won't buy more, why bother?
Your goal should be something along the lines of, "increase distribution channels by X%". Much better. :)
Timebound
The key to a solid goal is having a timeline for meeting that goal. Going back to the hoodie example, if you decide your goal is to increase distribution channels, you need to know when you will accomplish this in order to know when to start working on a secondary goal of increasing hoodie production.
It's all linked.
You don't want a situation where you end up with more retail stores taking your hoodies but no hoodies to give. The horror!
And there you have it! Now that you're thinking the SMART way with your goals, it's time to put your money where your mouth is!
If you need help planning your SMART goals, feel free to avail of our SMART Marketing Goals Calculator so you're suited and booted properly for 2017!

Looking to smash your goals in 2017?
If you're looking to smash your goals in 2017 through the power of Content Marketing, talk to the experts! Why not get in touch? One of the members of our team will be happy to help
In the meantime, follow us on Facebook, Twitter and Pinterest to keep up to date with the latest news on content marketing and all things digital.