The world of social media has been shaken to its core on the back of the Cambridge Analytica scandal. Facebook's stock value fell and people rushed to delete their profiles.
Even Jan Koum, co-founder of WhatsApp, decided to leave the Facebook board – rumours suggest he left because he was conflicted with Facebook's approach to data privacy.
Now that the scandal has settled, all our favourite social platforms are back in business as usual and we're here to give you the news on the changing social landscape.
Two realities for Messenger
Facebook has been through some tough times in the last couple of months, but recent scandals haven't slowed down the company's growth. The social network is working extra hard to bring new and exciting products to both its users and advertisers.
Facebook will integrate its AR tool to Messenger for businesses which will bring many brands closer to their customers in a fun and interactive way. Let's take an example: say if you were wondering if that new shade of lipstick would look good for your date. Use Facebook's AR tool in Messenger to try it on before buying it. You can even share it with your friends for instant feedback.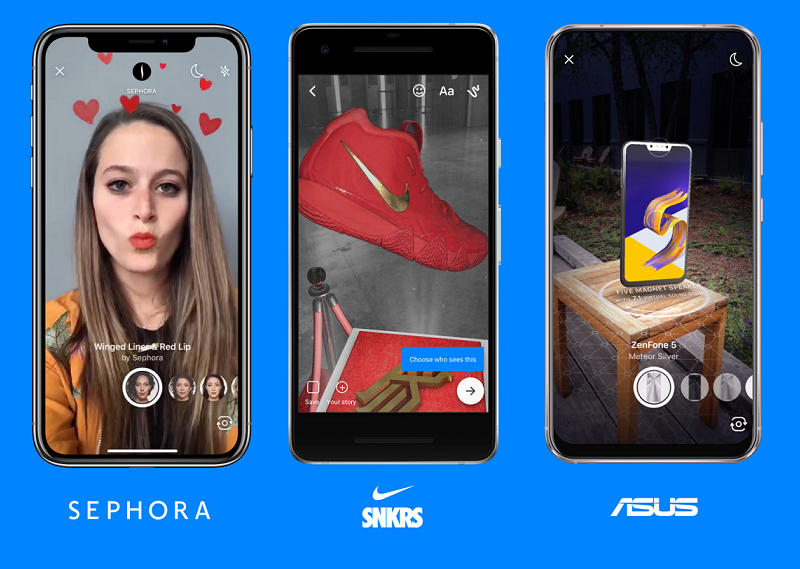 AR is a new way for marketers to engage with customers beyond invading their newsfeed with boring old link ads. But functionality stretches past fun and games – as there is a strong strategic motive to utilising the tech. Messenger is the most frequently used Facebook app and it gives marketers access to 1.2 billion monthly active users.
That's quite the opportunity.
In this video, Facebook shows how AR works for brands.
Snapchat's Specs appeal
While Snapchat may be in trouble because of its dwindling profits, the company is still determined to boost its creative output and win users back onside.
Snapchat released its Q1 earnings report and we can see that revenue has dropped - even with a growing number of users. But Snapchat is making big plans to turn it all around – and it intends to use the hottest trend on the market right now: AR.
Snapchat will use AR to revamp Spectacles and upgrade the product from a camera to a technological breakthrough. The development also represents a serious business opportunity for Snapchat to diversify its product and grow as a company as there is real potential to develop more hardware products that would complement the Snapchat platform.
Instagram's organisational reboot
Instagram is looking to step up its social media game by testing new features.
Most of the updates are focused on Insta Stories, to improve your user experience and get you closer to your friends. Soon, you'll be able to add reactions to your friends' stories and have your stories neatly organised in a Stories calendar. Insta Stories will also get a new Slow-Motion Mode for making videos.
Probably the most useful update is the Mute option which will enable you to hide someone's activity from your Insta feed without unfollowing them.
All these features are currently under development so it might be a while until we get them on our apps.
WhatsApp hops on the GDPR train
Given its recent privacy scandal, Facebook is intent on not having any more issues. It's implementing many data privacy measures across its platform but also across its subsidiaries – namely WhatsApp.
WhatsApp is complying with GDPR by changing its Terms of Service which will take effect on May 25th. The new update will bring age restriction to the app, which will be available only to users 16 and older. This measure will help protect children's data and will make it unavailable to anyone without permission from their parents.
Looking to create a knock-out social media strategy?
At 256, our content is created with the future in mind. Our team is expert both in storytelling and social media, so we create content that's user-friendly and strategic.
Get in touch below to find out more about our services.