With the snow firmly gone for good, spring has arrived – and with it comes a flurry of news. (Snow pun – 's no joke.)
In this social recall update, we're going to dive into two major social media scandals that you have to know about.
Facebook's data scandal
Facebook is facing serious investigations from the Federal Trade Commission after the discovery that it harvested data through a third-party app.
The company has taken a major hit and Facebook stock prices have dropped.
So, what exactly happened?
Well, Cambridge Analytica collected data through an app called 'thisisyourdigitallife'. Aleksandr Kogan, a member of the firm, used the app to pay users in exchange for the completion of a detailed personality test. The data was to be used for academic research purposes... so they said, anyway. (We'll just leave this link to election rumblings here, for your perusal.)
Not only was the data harvested from those who completed the test, but from their Facebook friends too – without their consent. The data was then allegedly used to target people with personalised political advertisements. Rumour has it that Facebook has known about the Cambridge Analytica data breach since 2015 and are only taking action now.
Since the Facebook scandal broke, Mark Zuckerberg reached out via his Facebook page. In his post, he said, "We have a responsibility to protect your data, and if we can't then we don't deserve to serve you. I've been working to understand exactly what happened and how to make sure this doesn't happen again."
Can Facebook make a comeback after this? The investigations are still pending, so only time will tell.
Vero who? Instagram is still on top
Don't panic: the Vero craze has come and gone.
For those of you who don't know what Vero is, it is – or was – the must-have social networking app on the block. Vero was similar to Instagram in functionality, though the design was lacking.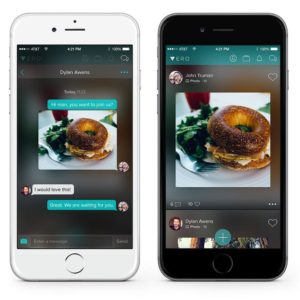 So, what was the buzz with Vero?
It promised to take things back to basics by showing your feed chronologically (i.e. minus the algorithm) and with no ads.
Obviously since the 'gram changed its algorithm, users haven't been impressed as they've been seeing posts from people they don't even follow and ad after ad. To put it simply: they were fed up with users posting that they were going to try out Vero and the whispers began – was Instagram going to be replaced?
Well, no.
The craze didn't last long.
Firstly, Vero couldn't handle the sudden spike in users, causing bugs and difficulties from sign-up. The spike in users drew attention to Ayman Hariri, the founder of the Vero app, whose track record speaks for itself – and not in a good way.
The icing on the cake (mmm cake) came when users discovered that you can't simply delete your Vero account; you must request for it to be deleted – and even then, it's not guaranteed.
Which all leads nicely onto our newest piece of news.
Vero's popularity may have been temporary, but Instagram is listening.
In late March, Instagram stated that its News Feed will be changing and allowing users to have more control over the feed and how they see their posts. YAY!
The social megalith also added a 'tap to shop' feature, which allows users to view prices of items and follow the link directly through to make a purchase. Pretty handy if you ask me.
For now, peace has been restored in the world of Instagram. But the question remains: how long will it last?
Looking to create a knock-out social media strategy?
At 256, our content is created with the future in mind. Our team is expert both in storytelling and social media, so we create content that's user-friendly and strategic.
Get in touch below to find out more about our services.