Ads! Ads everywhere!
But for who and, very importantly, when?
There are multiple online channels your company can avail of to reach prospective buyers. And your boss probably has you using all of them in a desperate attempt to increase sales.
Many sources cite the importance of social advertising, using platforms such as Facebook or LinkedIn. Others claim email marketing is what's important. But correct SEO resulting in organic reach is good too, right? Wait, what about PPC?
"AGHHH so many options! Which one am I supposed to use?"
The success of your content marketing is not simply about which platform you use, it's also about when you use it and for what purpose (you shouldn't always be pushing a sale).
This week's Friday Freebie will help you understand your buyer's journey and so inform you when and how adapt to it.
Be in the right place at the right time and with the right content.
The Buyer's Journey
So what exactly is this journey we speak of?
The Buyer's Journey is the steps a person takes leading up to a purchase.
This happens in three basic steps outlined below:
Awareness, Consideration and Decision.
Many companies overlook the buyer's journey at their own peril. Not taking it into account is a massive pitfall. You should tailor your content and the channels you use to align with each stage.
This will increase your conversions and keep your boss happy with those increased sales.
What does YOUR industry's Buyer's Journey look like?
Good question. Let's find out.
Our tool this week is brought to us by thinkwithgoogle.com and allows you to assess your industry's buyer's journey according to location, business size and industry.
After typing in the above details you will be given a timeline that looks something like this: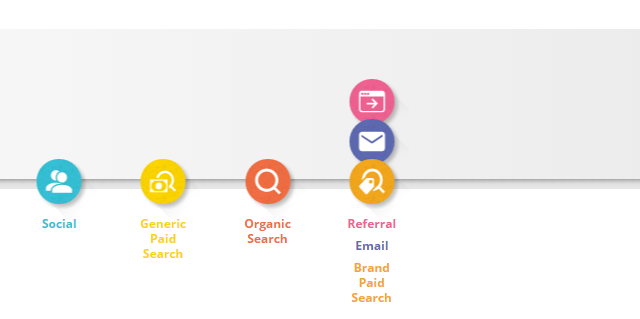 The timeline demonstrates how different marketing channels for large businesses in the Arts & Entertainment industry in the US influence the purchase decision. Channels to the left of the timeline play an early and assisting role in the sales process. Channels to the right are more likely to be the last interaction before a purchase.
Knowing this information will allow you to tailor and deliver content across each channel to your prospects at the right time.
A bit of content marketing gold, says we.
So what are you waiting for? Head on over to thinkwithgoogle.com and find out how to tailor your content marketing to reach your prospects and increase sales.
Does it still feel like a bit of a headache? If this feels like too much to manage we at 256 Media can help you out. We are experts at all things content marketing and love optimising content streams. Give us a shout for a free 1 hour consultation and see how we can increase your ROI.