Back in 2011, Klout was a big deal. While it doesn't quite have the clout it used to, there is still a measure of marketing merit to the social giant. The original score-keeper of digital influence, Klout has grown over the years to become a content collator and a place to find influencers.
Klout uses Facebook, Twitter, LinkedIn, Instagram, Google+, Bing, and Wiki data to assign users with a unique score between 1 and 100. The score is pretty self-explanatory: influencers will rank high up in the 70+ range, while beginners will slum it in the 10ish range.
Despite its simple veneer, there's a lot going on under Klout's hood.
Driving your dash
Let's take a good look at the Klout dash: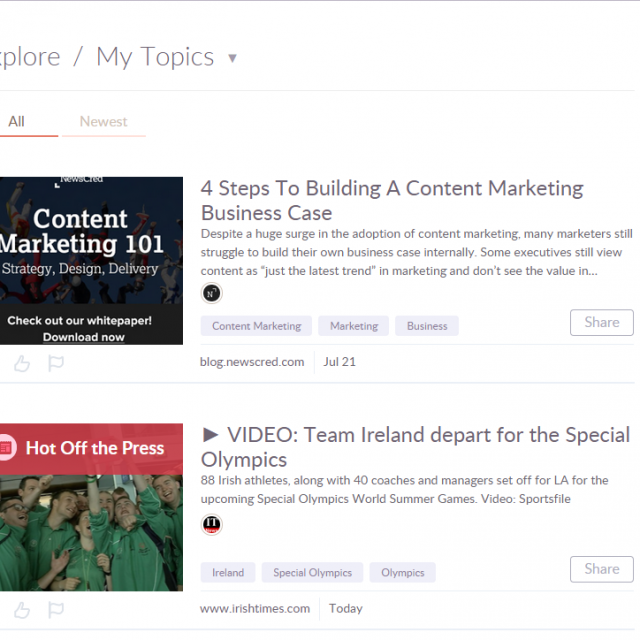 Explore – Klout curates and selects content that it thinks will be relevant to you and your interests. To the right, it also displays top experts in any given topic, so you can source influencers to follow and market to.
If you want to check an expert out, click on their name and you'll be brought to their 'profile' which is a compendium of their most recent posts, their social links, and a list of all the topics they're experts in.
Klout has come under criticism that its algorithm is too simple, as it gives a serious amount of heft to users with large Twitter follower counts so expect a pretty major bias there.
Schedule – Use Klout to schedule and share content. Klout gives you info on the peak times for posting in an easy-to-use day-by-day calendar. Click on a day in the calendar and Klout will generate the best times for you to share content.
Use Explore to source content, get your peak times, and schedule your content—all without leaving the Klout dashboard. Social media management made easy.
Measure – Klout tracks your Klout score over 90 days, charting your highs and lows. How much weight is your Klout score worth? That's the question. Klout also roughly breaks down the influence of each social post you make as a score out of 5, 1 being standard and 5 being a post that went a touch viral.
How useful is Klout for marketing?
The whole idea of Klout, apart from feeding our egos, is to give context to influence and content. Klout doesn't do anything particularly spectacular but it is useful for finding influencers and even as a free social scheduler and collator.
While a Klout score shouldn't influence who you do or don't do business with, it is a fun way to find content and to figure out who the big dogs are in pretty much any given industry. What we're saying then is while it might look fairly shallow, Klout is pretty useful for most marketers out there. In the digital marketing world Klout is considered old and while you can't teach an old dog new tricks, sometimes you don't need to.
If you want to launch a social media campaign of your own, get in touch and we can do something great together. In the meantime, keep up with all things digital media and content marketing by following us on Facebook, Twitter, and Pinterest.