There's a lot of jargon in the marketing world. Much of it is warranted, though some of it has been invented to make everything sound that bit fancier. Synergy. Churn. Actionable. Moving forward. They're all phrases that say a little about... a little. But one legitimate term you absolutely should know is 'sales funnel' - or the basis of every online journey.
The sales funnel takes users from point a to point b: from first discovery through to the actual buying of the product. The blueprint of the sales journey is different for every brand.
But one thing is certain: most brands will have more people kicking the tyres of their product or service than they will have buying it. More people will think about your product than actually putting their hands into their pocket to buy it.
Before we get into the ins and outs of the sales funnel, there are five questions you need to ask yourself.
How many visitors does your site get every month?
How many leads do you get every month?
Do you already have a contacts database?
How many sales opportunities come through in a month?
How many sales do you actually close every month?
If you don't know the answers to those questions, then you are wasting your time.
Typical conversions rates are in around 1-3% for most ecommerce brands. Those numbers may seem small, but whole business empires are built on them. However, you need to start reconsidering your strategy if your site isn't converting, or is converting at a tiny rate. It may be that you need to give your visitors more than they are getting.
You might need a website redesign or to offer your visitors better content. This can come in the form of blogs or ebooks. The modern sales funnel is all about adding value to your potential customer's life. Create a bond between the customer and your brand and you'll be golden.
It may even be a case that you're struggling to convert visitors because you don't actually have visitors. It happens – especially to fledgling sites. Content marketing (and inbound marketing) are at the cornerstone of attracting customers. It all loops back around to the sales funnel and adding value to your persona's life, be it through interesting content or social media.
Keep away from tofu. Not just in marketing. In life too. (It's disgusting.)
TOFU, MOFU and BOFU. Are they the newest brand of vegetarian friendly food? An upcoming grime artist?
To de-jargonise it, TOFU, MOFU and BOFU, respectively, mean top of the funnel leads, middle of the funnel leads and bottom of the funnel leads. Or – people who are having a look, people who are considering a purchase and people who have pretty much decided to buy from you.
At its most basic, you need to get a lot of people to have a look at your site. To do this, you need to create something that will pique their interest. This is why newspapers hired town criers back in the day – make a bit of a splash, tell customers the best bits and tempt them into buying the paper.
That's the exact thing you need to do to attract more people to your site too. Create a blog, make your 'about us' page interesting. Be useful. Remember that it's not about you anymore. It's not. Seriously.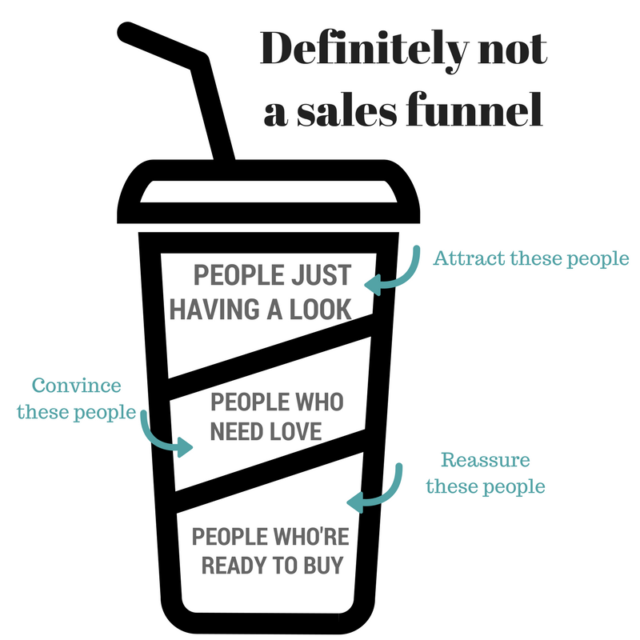 There really is no need to call it a sales funnel
For people who are considering a purchase, you need to show them the love. The only marketing acronym that has ever mattered came from Alec Baldwin in Glengarry Glen Ross. Always Be Closing. Convincing somebody that your company's product is worth buying is the basic job description for anybody in sales and marketing. If these people can't be converted into actual sales then you either need a new sales team or a new sales strategy.
For the people who have pretty much decided to buy from you already, you just need to reassure them so they know what your product can do for them. Don't oversell them or be shady. Let them buy in peace - but be there to tell them anything they need.
And sure, use the phrase 'sales funnel' if you want, but don't be afraid to step away from the jargon. While we all may be familiar with the 'attract, convert, close, and delight' methodology, there's a lot to be said too for laying it bare so you're offering something genuinely useful to your customers, answering their questions, and gently helping them along to making the hallowed purchase.