ReferralSnip is a free tool which gives businesses an easy way to promote themselves through Electronic Word of Mouth - or e-WOM - on their own websites. According to an American study, 85% of SMEs get customers through Word of Mouth or WOM. This makes sense – customers have always trusted the opinion of their peers, and this has grown on a global scale with the rise of Web 2.0 and communities such as Trip Advisor. Clever brands embrace the trend and offer their customers ways to share their opinions online.
ReferralSnip is one such device. It allows brands to create and customise a pop-up for their website, prompting site visitors to recommend the brand through email or social channels of Facebook, Twitter and email. The tool also gives you the freedom to place this pop-up or 'Snippet' on any page on your site. It's not dramatically different in that people can always just use the usual social sharing buttons on your site - but it is a much stronger call to do this.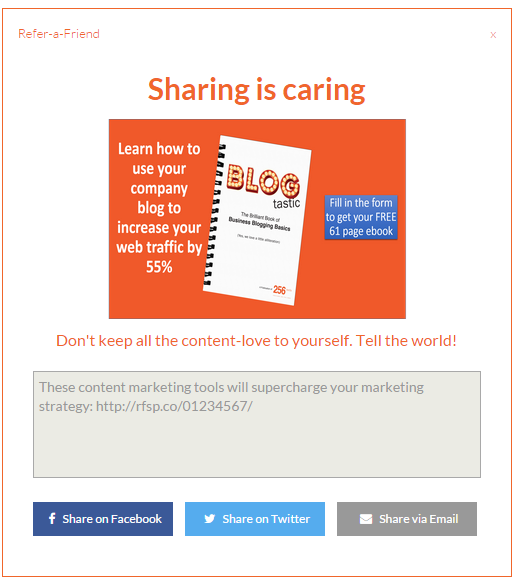 Make e-WOM work for you
At what point on your website will your customer be most willing or likely to recommend your brand? What works for some may not work for others. The nature of your business and your customer will determine which pages you should choose to place your referral prompt.
You're confident in your product or service, because, hey, it's great! But asking for a referral on your homepage could be a little brass. So choose carefully. It is always a good idea to put this recommendation on a page where your users have shown purchase intent. The 'Thank-you' page after a purchase, contact form, or tool download is automatically chosen by Referral Snip.
But what if you don't have a 'Thank-you' page? Can you ask someone to recommend you if they have not shown purchase intent or interest?
Yes you can; but you will need to prove you're worth your salt by offering your customers a taste of what you have in store. We recommend that you place your referral anywhere you have offered valuable content to your user in some shape or form. For example, if you are a tyre company it may be a good idea to place the referral request on the 'how to test your tyre' page
The good bits of ReferralSnip
ReferralSnip practises what it preaches, and will reward you with more customer reach once you use a snippet on their own site to refer them; a clever way to show its potential and to demonstrate to users exactly how it works
There are many small steps in the creation of your Snippet, all of which include new text boxes. These text boxes will come in useful for structuring your CTAs and copy, helping the less experienced in the content marketing sphere with the layout of pop-up boxes
Time is precious online. Every extra minute is worth something to your users, and nowadays it's rare people will give something for nothing. Referral Snip has this sussed, and will allow you to reward those good-doers and brand-amplifiers with exclusive access to content on your site like a coupon or e-book (people love free stuff). This reward will come in the form of a link - kind of like a virtual key
This tool is fool-proof; it was not created with developers or designers in mind, but for us lay marketing folk. This means you can customise your Snippet and embed the URL code onto your website without knowing how to code. I rustled up the image you see above in 5 minutes
Learning the ropes of a new programme or tool can be a pain. However, instantly after signing up, a helping hand comes in the form of a friendly email from 'Ailish'. This personal reach-out is a nice touch and even if I don't reply, I do have the reassurance that this is a reliable service, and if anything does go wrong – if my computer implodes, if I break the internet – Ailish will be there to help.
The not-so-good bits of ReferralSnip
There are three different URLs needed, and these are not as clearly labelled as they could be
The first one will be the URL of the page on your website which will host the referral snippet. The second URL will be from the page you want your visitors to share, and the last URL will be generated by Referral Snip to activate your new pop-up
It is as easy-as pie to create your Snippet – if you're in the right mood you could get it done in under a minute. However, it was not all plain sailing; putting your Snippet into action may prove a little tricky for some as it involves embedding the Snippet URL in your website. One of the biggest issues with the tool is that after it so generously generates a Snippet URL, it then tells you to 'replace your current thank-you page URL.'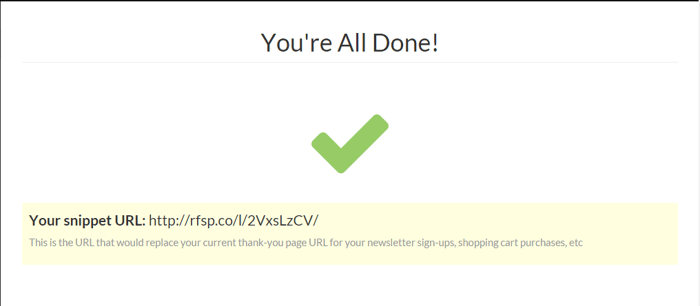 Snippers, Beware. The thank-you page URL should not change at all; it is the link driving people to your thank-you page that must change. They may have meant well, but what they really mean to say is –
'This is the URL that should be used as a new hyperlink on your landing page, linking users to your thank-you page'.
In short, this tool is a useful little way to help your customers spread some brand love. However, users will be reluctant to share a link they don't think is worth reading, so the first step to achieving positive word of mouth is high-quality content. If you need a helping hand with this, you can get in touch with us.