Digital marketing is a competitive world - it's essential to keep up to date with the latest trends, tactics and developments. The best way to do this is by upskilling so that you're familiar with new platforms and innovations in this fast-paced field.
The digital world never sleeps, it's the New York of industries, and there's zero room for complacency. The stats show that adding more strings to your bow is the best way to get ahead - almost half of CEOs see upskilling as the best solution to adding key skills to their business.
The good news is you don't have to spend a fortune to realise your dream of getting to the top of your game. Become a star digital marketer with a tool for every job thanks to these ten great free courses.
Lay the groundwork for success with The Strategy of Content Marketing
Why we like it – Coursera, content writing heavyweights Copyblogger, and University of California Davis help you create and implement your content marketing strategy with The Strategy of Content Marketing. Learn how to create the ideal strategy for your business, and discover the best metrics to measure the success of your efforts. With over 40% of participants gaining a tangible career benefit from this course, it's a top upskilling resource.

Producing content in-house is great but without a specific content strategy, how do you know if you're on the right track? This course is a solid start to setting you on the path to success.

Main focus – Content Marketing Strategy
Length – 19 hours
Run by – Coursera, Copyblogger and University of California Davis
Certified – Yes
Hear from the students – 90% of the reviews for this course are four stars or higher with reviewers calling it "extremely helpful" and "a phenomenal course which lit the spark within me to fully embrace the path of the content marketer", high praise indeed.
Further free learning
Keep up your content education with our 256 Content Academy. As The Content Marketing Institute's Agency of the Year 2019, we know a thing or two about content. If you sign up to our email newsletter, you'll get bite-sized updates on all things content marketing (with plenty of free training opportunities too).
Learn how to nurture leads with HubSpot's Inbound Marketing course
Why we like it – Discover the value of creating content and experiences that people seek out. Engage your audience with conversations, learn how to nurture leads and develop relationships with the Inbound Marketing Course. HubSpot are experts at inbound marketing and they know how to command attention. The hosts are engaging and use examples to clearly communicate their points.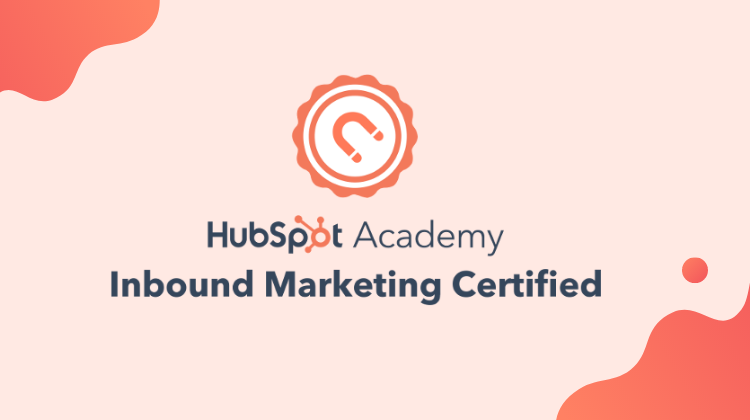 Main focus – Inbound Marketing
Length – 4 hours
Run by – HubSpot
Certified – Yes
Hear from the students – Cian Byrne, Digital Content Creator at 256, completed this course recently and says it's worth four hours of your time. "Short, snappy, and jam-packed with useful info, the personable presenters and engaging content held my attention".
Further free learning
See how a one-person creative agency uses inbound marketing to create epic content with this great hour-long YouTube video from The Futur.
G

et more people viewing your content with SEO Fundamentals
Why we like it – SEO is an ever-evolving aspect of digital marketing and yes, this means staying on top of Google's pesky algorithm updates. SEO Fundamentals is a great place to up your SEO game. Learn about link building and how to build the right ones. See why page load speeds are important and discover key changes to make your site mobile friendly.

Creating great content is a fun activity for us content marketers, and at 256 we love taking your content to the next level by optimising it for Google search and allowing it to fulfil its potential. Optimising alt-texts, conducting accurate keyword research, adding tags and writing engaging content is what we do best.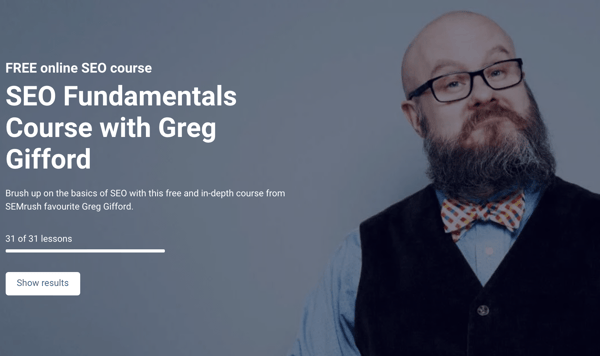 Main focus - SEO
Length – 4 hours
Run by – SEMrush
Certified – Yes
Hear from the students – Cian says presenter Greg knows his stuff: "I loved the presenter's conversational tone. Rather than scribbling down notes for the lesson, Greg's approach engaged me and made it much easier for me to absorb the information"
Further free learning
Become an SEO expert over 140 hours with the Search Engine Optimization (SEO) Specialization course from Coursera. Get a deep understanding of Google's algorithms, conduct audits and develop SEO strategies.
Boost your social media skills with The Business of Social
Why we like it – Social media is a cornerstone of digital marketing and every marketer needs to know how to maximise their efforts. Coursera's The Business of Social focuses on the power of metrics and how to improve your performance. See how social media impacts engagement with your business and learn how to balance a budget that gives you the best possible results.

Main focus – Social Media
Length – 6 hours
Run by – Coursera and Northwestern University
Certified – Yes
Hear from the students – It's hard to argue with a course that's had over 24,000 students and a 4.7 star rating. Participants love the budgeting and testing framework sections in particular.
Further free learning
Favouring reading above courses, Facebook for Business has oodles of detailed Facebook and Instagram resources. Brush up on your knowledge, take the Facebook Blueprint Certification exam and become the social media guru in your company. Take a look at Twitter's Business Resource page for some tried and tested tips.
Brush up on your email marketing skills with HubSpot Email Marketing
Why we like it – HubSpot are email marketing experts so it's no surprise that their Email Marketing Course is fantastic. Find out why you need to segment your audience, discover how to write snappy subject lines and see why you should trim your mailing list over time. This course has some great insights and tips, even if you don't use HubSpot's email software.

Email marketing is a powerful tool for marketers.. Our detailed email workflow was a vital part of our award-winning partnership with the University of Limerick, helping us to achieve results 25% higher than our original targets.

Main focus – Email Marketing
Length – 3.5 hours
Run by – HubSpot
Certified – Yes
Hear from the students – Graduates of the course have praised the results now they are better able to create beautiful emails for their business that deliver on business goals. Cathy Donohue, Senior Content Editor/Strategist at 256, is a little obsessed with email marketing (yes, really!) and says this course is up there with the best. "HubSpot are clued in to what makes a great email strategy and after this course, you will be too. The mini quiz feature is a smart addition as it keeps you focused and appeals to your competitive side too."
Further free learning
256's Content Academy has some great insights and interviews with email marketing masters. Don't miss our insider tips on how to boost your open rates.
Get to grips with UX The Digital Skills: User experience course
Why we like it – A fantastic user experience helps your service stand out online and brings customers back to your business time and time again. The Digital Skills: User Experience course is a brilliant place to start your UX journey. Learn about your user's needs, wireframes and prototypes before picking up your certificate when you complete the course.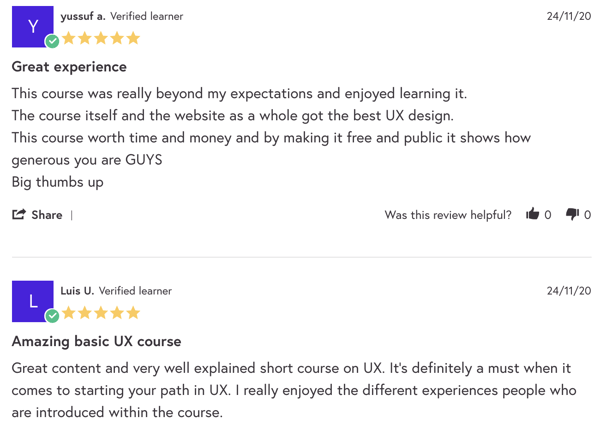 Main focus – UX
Length – 6 hours
Run by – Future Learn
Certified – Yes
Hear from the students – Students of this course love how the expansive topic of UX is broken down into bite-sized chunks with each section clearly explained.
Further free learning
UX and UI go hand in hand, so it's a smart idea to brush up on your UI knowledge as well. Delve deeper into your brand logo with the Going Beyond the Logo: Boosting Brand Identity with and Effective UI course and give your brand a cohesive presence across all platforms.
Promote your business with Google's Online Advertising course
Why we like it – What better way to learn about Google Ads than straight from the horse's mouth? While the Promote a Business with Online Advertising touches on email marketing, the info on search advertising and display advertising are the prime takeaways here. Once you know how to get your ads up and running, the course delves into tweaking them with relevant keywords and optimal structure.

Main focus – Google Ads
Length – 3 hours
Run by – Google
Certified – No
Hear from the students – Much like Google itself, people praise the easily navigable structure and straightforward approach of this concise course.
Further free learning
Google's course is a good start, but some of us want a shiny cert to go with our new skills. Sign up for the Google Ads course from Alison and get your diploma after completing the 15 modules and exam.
Take the Branding for Business course and create an instantly recognisable brand
Why we like it – Embrace the power of impactful branding with the Branding Your Business course from Canva. Let your brand's personality shine and communicate your message through your brand identity. Learn how to choose the right fonts, logos, colours and images to create your brand toolkit.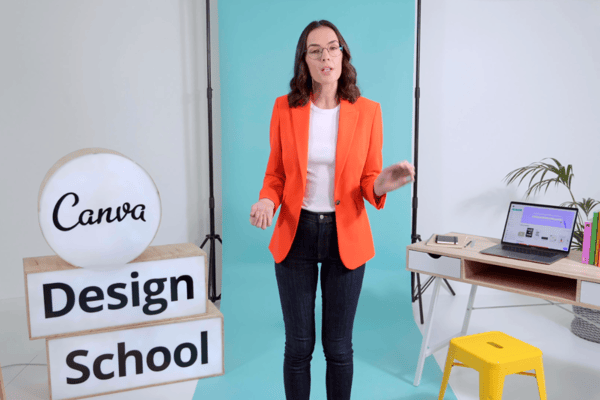 This is a great course to start with, but clever video content is another way to reinforce your brand identity. We worked with Irish Life on 'Not all 99s are Equal' campaign which led to winning the B2C Branded Content Campaign of the Year at the 2020 Content Marketing Institute Awards.

Main focus – Graphic Design
Length – 1 hour
Run by – Canva
Certified – No
Hear from the students – Canva is a user-friendly tool with a great rep in the digital marketing world and their courses have rave reviews too.
Further free learning
Take your Canva knowledge to another level with Canva Design School and learn how to make slick presentations and how to build your personal brand. Photoshop and Illustrator users head to the Adobe Education Exchange for some great resources and courses.
See the results of your hard efforts with Google Analytics
Why we like it – Learning from the people who make a service is a smart place to start particularly when it comes from the Google giants themselves. Google educates users with their Advanced Google Analytics course. Find out how to configure your dashboard to search for specific stats, dive into deep analytics and learn how to get the most from the platform.

Main focus – Google Analytics
Length – 4-6 hours
Run by – Google Analytics Academy
Certified – No
Hear from the students – Users of Google Analytics Academy love that its flexible structure lets them easily fit sessions in between deadlines and meetings.
Further free learning
Take your knowledge even further with Google Analytics for Power Users and learn how to create engaging visual reports of your data. The Introduction to Data Studio ensures you'll wow at your next big marketing team meeting.
Discover

Skillskare

and wow your team with dazzling presentations
Why we like it – Give your hard work the presentation it deserves with this Improve your PowerPoint & design skills course from Skillshare. Master the basics before learning how to create fully custom templates and stunning slides with this in-depth course. By the end of the course, you'll be animating text, embedding fonts and even using vector files in your presentation.

Main focus – Microsoft PowerPoint
Length – 10 hours
Run by – Skillshare (free with their 7 day trial)
Certified – No
Hear from the students – The 5,000+ people enrolled in this course loved the clear layout of the lessons and also spoke highly of the instructor.
Further free learning
Insightful data, custom slides and striking visuals will no doubt improve your presentation, but we also need to verbally present our work. The Speaking in Public course from Google Digital Garage is a quick course that teaches you about body language and presentation prep.
Keep the learning going with bonus content
We know that digital marketing is constantly changing as channels evolve and new ones emerge. Keep up with the latest trends by subscribing to some expert podcasts and YouTube channels. Check out some of our favourites.
Subscribe to these YouTube channels
SEMrush has lots of free resources. Subscribe to their YouTube channel for extensive insights into backlinks, local SEO, PPC and more.

Brian Dean – SEO is important for every digital marketer, from using keywords in WordPress to developing advanced link building strategies - Brian Dean from Backlinko has a YouTube video for everyone.

Neil Patel – If you search for digital marketing videos on YouTube, you're sure to see Neil Patel. His videos explore interesting niches, like SEO for tiny sites, LinkedIn optimization and how to stand out on Quora.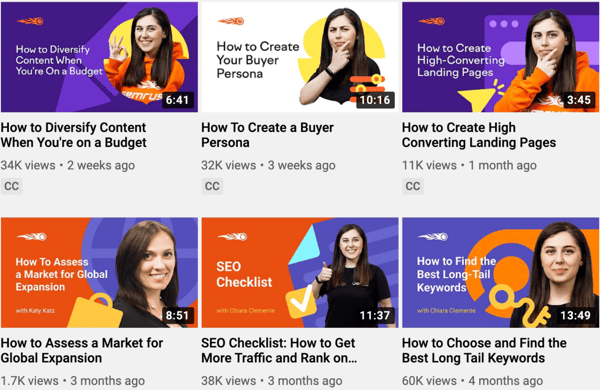 Check out these marketing podcasts
Social Media Lab

–

Putting their money where their mouth is, Social Media Lab come up with

social media

experiments, put $15k behind their idea and dissect the results. It's a must for any social media enthusiast.

Marketing

o

ver Coffee

– Get regular chunks of marketing insights with this informal podcast. a great way to stay informed with relevant marketing content.




Upskilling is a core part of our approach here at 256, it's what makes us an industry-leading, award-winning content marketing agency. Right now, 2021 planning is full steam ahead for many marketers and we have some key tips from industry insiders on how to make the most of your new year strategy.