The internet - where the keyboard is mightier than the sword.
A place where anyone can freely express their opinions while others can disagree, critique or chastise without any real consequence.
Social media has always given people a platform to express their opinions and leave it open to discussion and criticism. People can reply, rebut, troll or share a relevant/irrelevant meme. Or do it all at once. Anything goes in the socialsphere (you kids have fun now).
And while this is a healthy and normal part of today's society, what if we were to take this one step further?
What if, instead of just leaving a comment on a status or below a blog, you could annotate any online text for the world to see? Well, another disruptive marketing innovation may be hitting us hard pretty soon.
You may know Genius from their fairly recent public spat with Google over their SEO marketing techniques, or if you've ever wanted a lyrical explanation of Shaggy's iconic 'It Wasn't Me'. The company originally allowed its community of users to provide annotations and interpretations of song lyrics but they've recently started to broaden their services.
They've released a free Web Annotator tool called 'News Genius'. This alternative to the traditional comment section lets you annotate text on any blog or news article on the web. All you have to do is highlight a line of text, click the pop-up Genius button, and say something that adds 'value' to the page. Users with a Genius account can type "Genius.it/" before a URL which enables anyone to highlight a passage and post their thoughts on it for other users to see and respond to.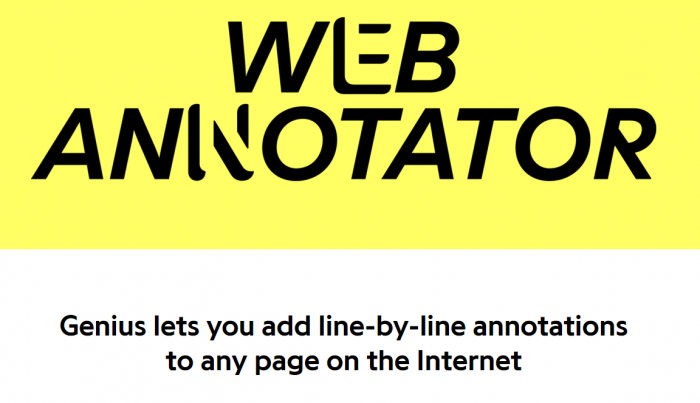 While this could a great facility for news stories to validate information and highlight biased or inaccurate content, this tool could very easily be used for the wrong reasons and leave content open to abuse.
Since all websites and blogs are subject to the tool and have no ability to moderate the annotations, users can say whatever the hell they want and the affected sites can't do anything about it. Granted, everything posted online is public and would be open to discussion anyway. But using this to directly critique or scrutinise a blog on the page itself as opposed to a third party social channel seems to make it a bit more personal.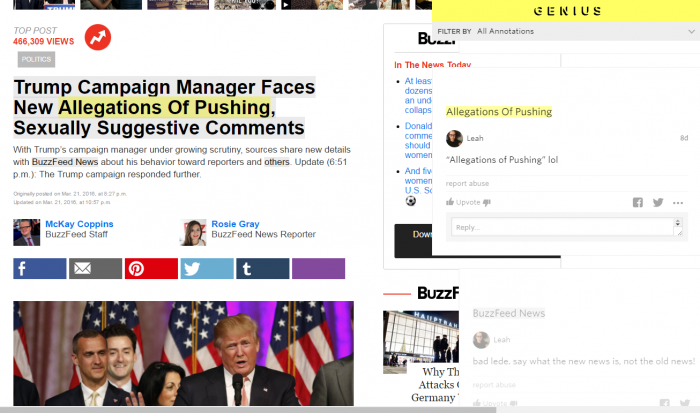 The potential for sniping is blown open with the annotator too. What if your ex-partner has a chip on their shoulder and decides to attack your personal blog for the world to see? Or, even worse, your business competitor creates an account to devalue your content and superimpose unnecessary commentary on your work right where the content lives? And you just can't do anything about it?
While Genius could potentially be paving the way for annotations in journalism, they're not taking the bigger picture into consideration. Bloggers could easily fall victim to a simple keyboard warrior with a loose finger or to a premeditated strike, planting false preconceptions in the reader's head and sucking the life out of quality content.
If you agree or disagree with this blog, just create a Genius account, highlight some text on this page and let me know. Or just tell me off. After all, what can I do?
Looking to create content that will make people sing its praises?
Looking to create content so good that even your competitor can't devalue it? Why not get in touch with our award-winning team. We'll be happy to chat about what we can do for you.
In the meantime, follow us on Facebook, Twitter, and Pinterest to keep up with all things content and digital media.